Videospace presents
at the Budapest Art Fair
works of
works on display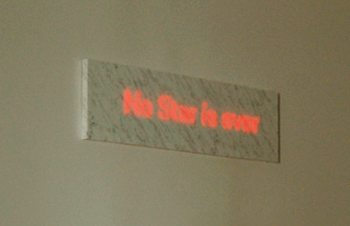 Csongor G. Szigeti: Epitaphs, 2011
LED display behind marble foile, Hungarian or English texts from original gravestones, app. 33x100cm, ed. 3 (Hungarian) + 3 (English)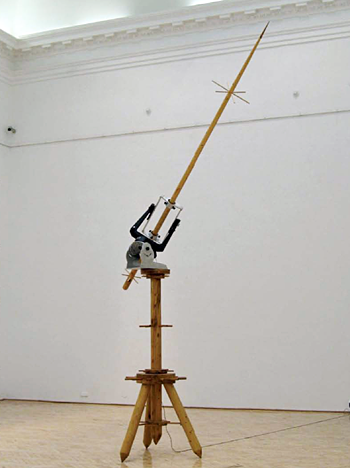 Csongor G. Szigeti: Sun Pin, 2006-2011
installation. app. 6x1x1m, ed. 1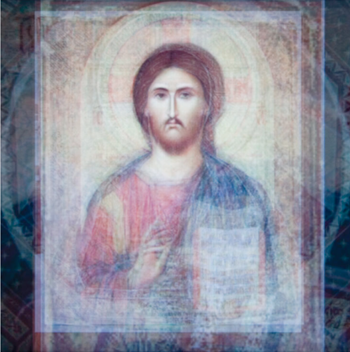 Csongor G. Szigeti: VideoPantokrator, 2003-2011
animation, ed. 5 (video) + 3 (computer based)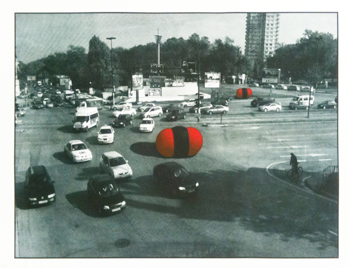 Petko Dourmana: Four Hard Truth II., 2008
nyomat, 50x70cm, ed. 10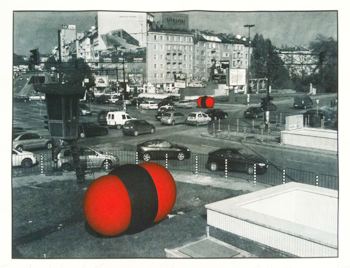 Petko Dourmana: Four Hard Truth I., 2008
prints, 50x70cm, ed. 10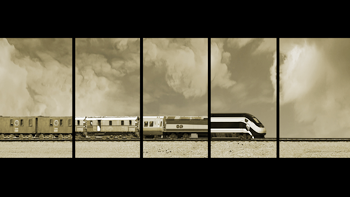 Gigi Scaria: Prisms of Perception, 2011
video, 4'25", ed. 7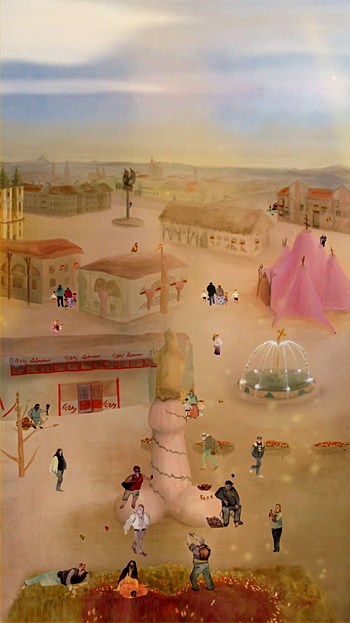 Eszter Szabó: The Recapture of the Paradise, 2011
HD video, 3'00", ed. 5

Hidden Reality
Videospace Gallery presents four artists on the Art Market Budapest 2011. Four exciting, genre-bending artistic strategies are displayed; their intersection is the dissection of the connections in our world by means of art– from the university system to the social relations. The domain of the always seen but never noticed regains its apparent significance:

The SunPin of Csongor Szigeti G. points at our planet's source of life indoors and at night as well; the video by Gigi Scaria, "Prisms of Perception" sets the passing time on rails. Otherwise, Scaria is among the artists who represented debutant India at the Venice Biennial this year. Petko Dourmana's two prints show an abstract atom model intruding in everyday vehicular traffic, while Eszter Szabó investigates on a vision of the future Hungary.

Videospace Gallery's artists have various cultural backgrounds. The diverse artistic visions, mindsets and technical solutions provide a panoramic view on the notions of humanity– and contemporary media art.
Csongor G. Szigeti (HU)
General feature of his works is the profound thought; they imply transcendence as the core of all creative gestures. Csongor's approach is analytic and inventive at the same time. He keeps distance from the institutional religions; his implicit criticism can be spotted, nevertheless the intimacy of the authentic rituals attracts him in a philosophic way. Intellectually charged, delicate installations prevail, occasionally by transposing scientific toolkit, he operates with sophisticated symbols that spur self-reflection.
Petko Dourmana (BG/GB)
Permanent inhabitant of the boundaries of fine art and IT with the creed: science and art are one. He projects the sweep of technology and the distortion of interpersonal communication on each other, dealing with the ability to capture emotions in the virtual space. Furthermore, he observes historic past from the aspect of visual representation. Petko makes an effort to phase new media art in Bulgaria being a key figure of professional programs, research and educational projects. Dourmana organizes exhibitions throughout the world, which also indicates he considers popularizing media art a true mission.
Eszter Szabó (HU)
Eszter obtains her trademark visual world by animating traditional graphic interfaces. Beyond the striking playfulness and grotesqueness, empathy also has a major role in her reflections. She expresses sensitively her responses to the urban milieu. Regarding her series on the third age, the tender clumsiness and the defiance of the elderly simultaneously appears, breaking away from the stereotypical depiction. Eszter is successfully present on international art fairs recently.
Gigi Scaria (India)
In the center of his attention is the ever changing face of the metropolis. Gigi is engaged in revealing through painting, sculpture, photo and video, how built environment affects social structure. While living in Delhi, he experienced himself that the ill-considered urban planning results in people being excluded from the landscape. This pressure and anxiety is processed in the form of surreal, absurd skylines. He ponders the future ironically, as humanity might not have a raison d'être for long.
text: Ili Puskás
concept: Eike Berg
Special thanks to
Judit Galáczy, Ili Puskás, Attila Danka, Patrick Urwyler and the artists
map of the Art Market Budapest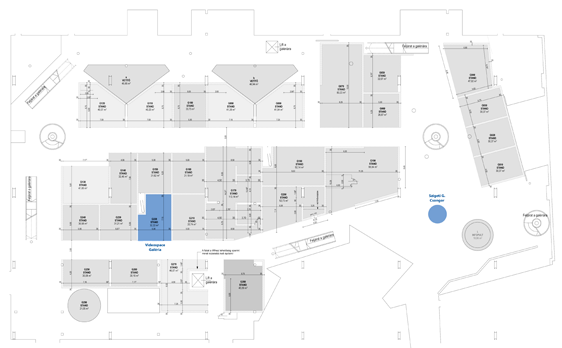 Art Market Budapest
Millenáris B building
Booth of Videospace Gallery: G220
SunPin, the work by Csongor G. Szigeti: in front of the entrance
Opening hours: Thursday: 10 am - 10 pm, Friday-Sunday: 10 am - 7 pm

top