Welcome to the Collectors' Page of the
Progresses III. Animation
exhibition at Videospace Gallery! We presented single channel video works by six international artists. Although the genre of animation is used for a variety of purposes, the present exhibition showcases works that reflect a specifically artistic approach.
We would like to introduce some works of the artists represented by Videospace who took part in the exhibition. We are pleased to answer your questions and send you more information.
Most of the videos can be delivered in an all-inclusive service: In order to achieve the optimal effect, they are be presented on state-of-the-art but plain displays, like paintings on a wall. By doing so, we turn moving images into an object, representing a new and inventive method for the presentation of media art. All you have to do is put it on the wall and plug it in!
The videos are sold with a certificate of origin signed by the artist and Videospace Gallery.

Tamás Komoróczky
Tamás Komoróczky is one of the 'classics' in Hungarian media art, and, at the same time, he is still one of the 'wildest' artists. In 2001 a complex installation with videos and mural works (wallpapers) was presented in the Hungarian Pavilion at the Venice Biennale. Beside videos, he makes digital prints, and recently, neon objects.


more
One of his recent videos is the animation entitled
A Nothing Poem
. Stills of a portrait photo of the artist are morphed and stretched, simulating the recitation of a poem 'about nothing' he found in the internet. Time after time, the artists' face is distorted into a surrealistic metamorph.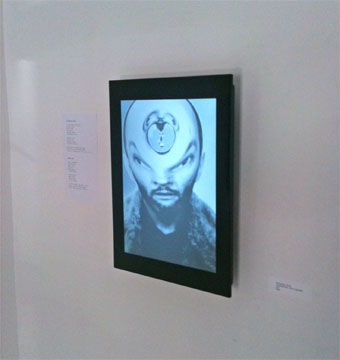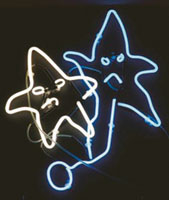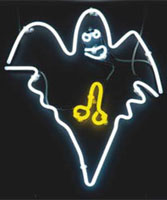 top (on display in the show): A Nothing Poem / looped video on upright 20" monitor , 2009, 3'00", DVD + memory card, edition 1/5 incl. monitor
bottom left: Ghost of Ever Slaves, neon-object, ca. 40x40x5cm, 2008, ed. 1/3
bottom right: Ghost of Ever Slaves (exhibitionist), neon-object, ca. 40x40x5cm, 2008, ed. 1/3
Gigi Scaria
Gigi Scaria an emerging international artist from India, living and working in New Delhi. Besides making various types of videos, he is also a painter, sculptor and photographer. Over the past several years, he has had solo shows in many places from Seoul to Berlin, and participated in numerous curatorial shows all over the world. He was presented at art fairs including Art Basel Miami, Contemporary Instambul and Art Expo India. Videospace presented his newest video works and some of his photographs at Volta New York in Spring 2010.


more
Amusement Park
is far from the documentary genre. In fact, it resembles a video clip, in which there is also a distinct overtone critical of the political and social dimensions of urban structures of present-day India. All this is 'wrapped' in a package of easygoing mood of public entertainment. The animation
Political Realism
is a visualisation of allegorical situations of the past 100 years: two doors keep opening and closing to allow, again and again, glimpses of the end of political systems, the death of eras.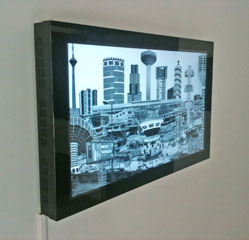 top and bottom left (on display in the show): Amusement Park, looped video, 40" monitor , 2009, 5'24", DVD + memory card, edition 6/7,incl. 40" monitor
bottom right: Political Realism, looped video, 2009, 3'35", DVD + memory card, edition 6/7 incl. 19" monitor
Eszter Szabó
Although the youngest artist represented by Videospace, Eszter Szabó already enjoys rapidly growing international attention. At present, she is on a three-month residency programme in Paris until June, 2010. Subsequently, she will participate in another residency in Bielefeld / Germany for another three month. A fair number of her videos from series entitled
People
were sold at FIAC in October 2009 and afterwards to various prestigious collections in Europe and in the US.


more
Her animation videos are based on traditional techniques, although the visual world of the scenes evokes our contemporary digital universe. She observes human desires, everyday sufferings and carefully notices the significant moments. The
People
are animated water colours with slight movements, like a breath, the wink of an eye or a hand reaching out. Her watercolors and paintings around the subject are also available.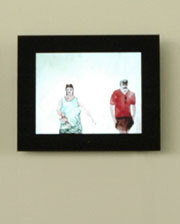 top left (on display in the show): Palma (People series), 2009, 0'30", DVD + memory card, edition 4/5 incl. 15"-monitor
top right and bottom left (on display in the show): Reach out and touch me (People series), 2009, 0'30", DVD + memory card, edition 2/5, incl. 15"-monitor
bottom: Retirement Home 2047, looped video, 2009, 2'19", DVD + memory card, edition 1/5 incl. 40"-monitor
---

top