PROCESSES IV.
Social Media
participating artists:
About the exhibition
Within the framework of the Processes exhibition series we present one-channel video works, in each year around another topic. This year, regarding the Hybrid year of the Videospace, we have widened the conception, giving place to other media as well. However, the moving image-like surface remains.

Under this year's subtitle, Social Media, we selected works which reflect our social surroundings. We interpreted the theme so loose that animal behaviour might fit in just as well as messages to the dead.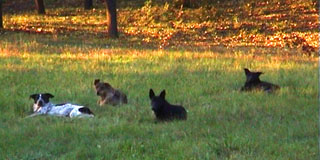 In MIKLÓS ERHARDT's video Parallax we see the spontaneous synchron activity of a group of stray dogs. From their behaviour, if we wish, conclusion may be deduced regarding human society or even art. The situation is in fact a found one: the artists tries to attract attention, but, due to the lack of further affirmation, he slowly loses it.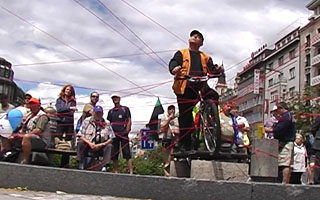 Opposing to this, the video Prague Spring by JÁNOS SZIRTES is a definitively planned documentation of a performance in Prague. Being a perfect dramaturgist, life has contributed to the artistic action. Behind the artist sitting on a bike which is tightened to the neighbouring buildings a demonstrating crowd appears; the artist, first 'leading the group', is gradually surrounded by the mass, which, directed by other, more important purposes, slowly leaves him behind.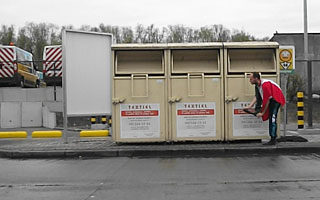 MIKLÓS MÉCS's work Altkleider is also a documentation of an action. Within this series the artist went to containers for uses clothes in different European cities (Gent, Graz and Dresden), took off all his clothes and threw them into the container. Apart from the universal topos of 'Giving to the Poor', the issue of national, regional identity is also present in the work, as on one of the venues the donated piece of clothes is nothing else than a Hungarian flag.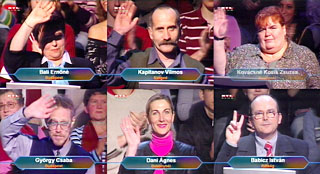 The relationship to the homeland is also the keyword in SUGÁR JÁNOS's work Homesickness. After the president candidates of the Mute series in this video everyday people receive the opportunity from the fate to be celebrated for a moment. The piece, cut together from the introductory minutes of television quiz programmes, confronts us with the fact that all these people are our fellow citizens, and to love the country means accepting them. Sugár quotes Pilinszky, who quotes Simone Weil: 'The homeland can only be, and must be loved with compassion.'

From this height of pathos CSONGOR G. SZIGETI helps us to return to the banal weekdays. The pathos addressed to eternity falls through the advertisement characteristics of the LCD-display in his work Epitaphs. In our day the culture of cemeteries is also in transition: stone vases have been long replaced by plastic holders, instead of the choir of professional mourners music comes from CD-players. It is a real media art work, in which the carrying medium is just as important as the content.

---


Az exhibition takes part in the ART MOMENTS project.
Sponsors of the Videospace Gallery

top
View into the exhibition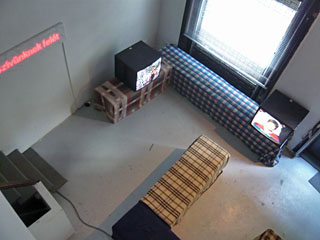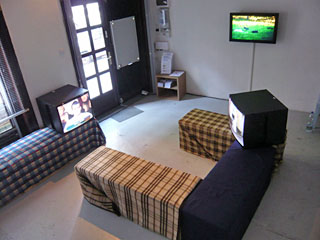 Images from the opening