Exhibition view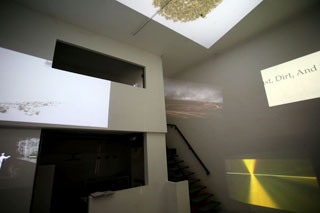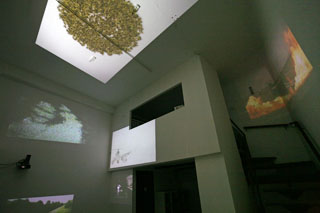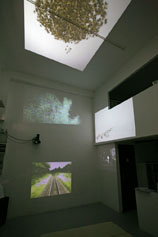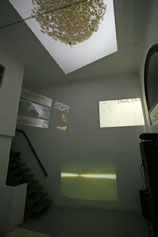 Sound
Alexander Hacke:
Obedient Agogic
2011, 33'59", hang
Alexander Hacke's "Obedient Agogic" sound-work, sources an old country song (Hank Williams' "Honky Tonkin'") about drinking, sex and music and extends its original 3 minutes into over 30. This literal "deceleration" goes to the root of 20th century American pop culture and pulls it further backwards, into a state that is equally meditative and menacing.



Alexander Hacke was born in the proletarian district of Berlin Neukölln and aside from playing in numerous influential underground-groups, writing, recording, releasing and performing music under the pseudonym Alexander von Borsig, he joined Einstürzende Neubauten in 1980 at the tender age of 14. All throughout the eighties and up to the present he does not only collaborate with countless artists of various genres but continues to produce records and score music for theater, feature and documentary movies.
Videos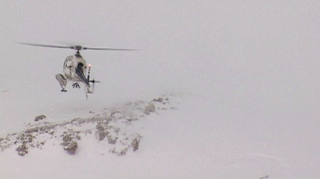 Tomas Eller:
2007, 4'35", dv-pal/stereo
In this work, Eller work explores the laws of gravity and centrifugal force as competing forces, on the basis of the flight path of a helicopter over snow-covered mountainous terrain. In the continual attempt to hold between touching down and drifting back upwards the helicopter hovers above the grey and white, snow-covered ground without ever actually landing. Only the trails left by the wake become increasingly visible in the position concerned, revealing rocky ground beneath to provide an image with similar characteristics to one of the artist's earlier etchings. The sides of the helicopter are covered with light-reflecting foil, creating the effect of two-dimensional surfaces that have been added to the image — addressing the constructed nature of three-dimensional images and the dissolution of form as they appear to dissolve into the background and the helicopter look like a skeleton. Working in collaboration with a physicist, Tomas Eller had the exact relationship between the opposing forces involved in the flight calculated, and has used the mathematical formula for the title of the video.



Tomas Eller likes to roll out the heavy artillery for his experimental studies. One of his video installations, Stabilize my Horizon (2000/2001), on view in Austria last year, featured four motorbikes battling it out on winding mountain roads. Eller was born in Maran, Italy, and studied sculpting, painting, art design, and new media at The University of Applied Arts and at The Academy of the Fine Arts in Vienna.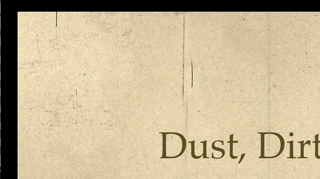 Richard Jochum:
Dust, Dirt and Scratches
2011, 41'29", screen-cast
Dust, Dirt, and Scratches is a movie about the obsession of cleaning up. It shows the process of digitally retouching an image, which is full of stains and scratches in Photoshop. The cursor turns into a wiping cloth and broom. Guided by an invisible hand, it touches the image in sections to remove stains till the spotty image becomes plain. Recorded as a screen-cast, the movie serves as a tutorial as well as a demonstration of compulsive behavior. If longing for perfection is inherent to the arts--hereby creating beautiful pictures at times--it's also a futile obsession. For a video artist who is used to the format of movies under five minutes, Richard Jochum's screen-cast is remarkably lengthy. However, the goal is not to have the audience watch the entire movie rather than make the viewer realize that there will always one more spot that needs cleaning. And if the superficial stains are cleared, the image will still show hidden, low-lying stains.



Richard Jochum is a visiting scholar and artist at Columbia University. He works as a media artist since the late 1990s setting up exhibitions all over the world. An Austrian citizen, Richard received his MA in philosophy from the University of Innsbruck, and his PhD from the University of Vienna dealing with strategies of coping with complexity in contemporary philosophy. He received his MFA in sculpture and media art from the University of Applied Arts in Vienna before he moved first to Berlin and later to New York.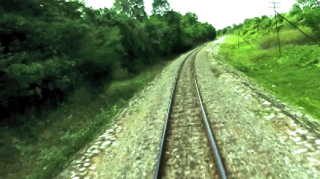 João Vasco Paiva: Chiang Mai - Moving Landscapes
2009, 4'43", HD video, surround sound 5.1
"Moving Landscapes" is a series of video documents made while traveling in several locations in Asia. This position of the artist as a traveler, allows him to only gather fast and superficial information mostly graphical and sonic. Nonetheless, this information is part of the overall characteristics of these places reflecting their visual and sonic structure and composition.



João graduated with a Fine Arts Degree in Porto Art School. In 2006 he was awarded with a scholarship from Fundacao Oriente, living and working in Hong Kong since then, he obtained a Master of Fine Arts in Creative Media in the School of Creative Media - City University of Hong Kong.
His work is based on the exploration of sound and visuals produced through the isolation of physical patterns. He uses digital and analog systems to depict scores in everyday life situations and re arranges them as sound and visual compositions.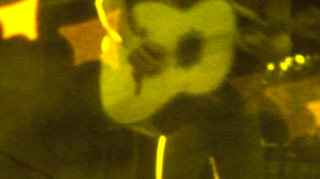 Danielle De Picciotto:
Swing Low, Swing Low
2011, 3'13", S8-film
Danielle de Picciotto's short film, "Swing Low, Swing Low,"references pop-culture tropes, most specifically, rock and roll and nostalgia, then breaks the signifying images apart and slows them down, creating an acid-soaked vision that is fiercely sweet, beautiful and transcendence.



Danielle de Picciotto is an American artist living in Berlin, Germany. She works as a painter, illustrator, film maker and musician.
Besides her own solo and group exhibitions she has organized countless art, music and charity events always consigned to breaking norms and making new forms visible and possible.  Together with Dr. Motte she founded the Love Parade.
Musically she sang with the hip hop crossover band "Space Cowboys" and with the "Ocean Club" together with Gudrun Gut.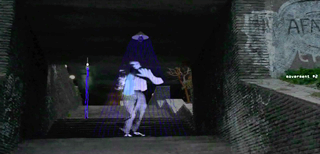 Denis Salivanov: Moverment
2010, 2'20", digital format
"Moverment" is not just video art, it is a guide and vision illuminating a series of street-art projects which unexpectedly appear throughout Kiev's cityscape--unforeseen, unexpected and surprising in their strength and ability to redefine time and space, with the phantasmic presence of a virtual laboratory intersecting with unwitting passersby.



Denis Salivanov is a young Ukrainian artist who explores man and scape in multifarious media. His leaps from fine oil paintings of isolated-to-dislocated characters in drowning blue fields, to the maker of bold experimental sweeps in transformutation of space with his group UBIK and his continuing scientific experimentation of perceptual and three dimensional spaces and its analogue under the banner of his newly formed group headache studios.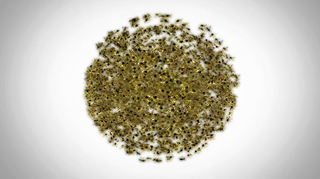 Vadim Schäffler:
Steady State/Kugelstaat
2011, 7'55", DVD Digital Betacam
A bee colony. A crowded place which buzzes with warmth, containing a mass of fluctuating bodies and radiating waves of energy. f too many bees stay inside, the honeycombs are in danger of melting, so a part of the population has to fly outside, while the remaining bees cool down the honeycombs with their beating wings. ith every new generation of bees that is born, one half of the old population has to leave the colony and find a new place to stay. This circle is part of every bees´ life.
Credits: Sebastian Reuter



Vadim Schäffler studied fine art at Braunschweig College of Art (BA, 1996 & MA, 2003). He works with digital landscapes, non-places, creatures and people and he brings them into a confrontation with each other. A touch of narrative is often found in his works along with pictures of deformation, struggles and conflicts of the "virtual" and the "real" world. His media are video, installations and digital prints. Vadim lives and works in Berlin, Germany.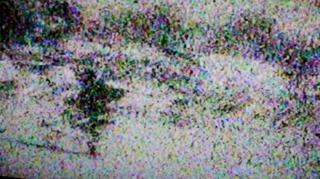 Tóth Gábor aka tgnoise:
The Way of Oblivion
2011, 2'04", digital format
Traumatic vestiges of the past, recent and otherwise, fade in and out of sight like televised, electric ghosts in Tóth's "The Way of Oblivion." Also, when presented with its own, unique soundtrack, these stains in time, which reside in our collective memory, not only reveal themselves as visions, but also as whispers.



After his study of law he got two of qualifications in the printing trade. Several kinds of newspapers, periodicals and books were published or established by him. Fields of his activity: Visual and Concrete Poetry, Performance-Art, Experimental Film and Video, Free-improvisation NoiseMusic /tgnoise/ He does not pick and choose between forms of expression.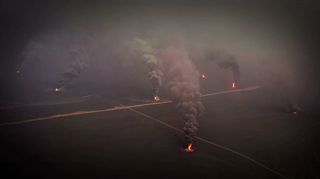 Ryan Uzilevssky: Days of War, Nights of Forgiveness
2011, 4'32", digital format
The world has not ended, but the world we know has.
We imagine we still live back on that old planet-
that the disturbances we see around us
are just the random and freakish kind.

It is now a different Earth; with a heaving corrosive sea,
raked by winds and scorched by heat.

The worst off, are those who saw it change,
those who can remember the shining blue oasis,
and the smell of fresh air.

During the night, the color of day is just a memory.

Cast: Ryan Uzilevsky, Julia Colavita
Additional aerial footage from "HOME" by Yann Arthus-Bertrand



Ryan Uzilevsky is a filmmaker and multimedia artist based in New York.  His short films and music videos have won various international awards but ultimately inspired him to move beyond the 16x9 rectangle and to create large-scale projection installations on buildings, sculptures, theater stages and other transformative spaces. Coming up in May of 2011, Light Harvest Studio, Ryan's self-founded design firm, will be a projection mapping the 150 foot tall facade of New York's New Museum.