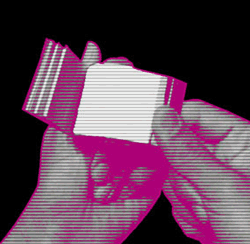 The week before Chrismas:
18-21 December, Tue-Fri 4-6 pm
January 2008:
Wednesday and Friday 3-6 pm

We invite you to have your animated portrait made! Video without electronic: we create a personal flipbook from a 10 second video taken in the Videospace gallery. The first piece - for free - is the present of Videospace Budapest for Chrismas and the New Year. Every additional piece costs 1500 HUF.

A project by Patrick Urwyler.