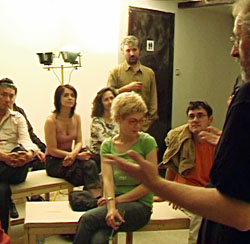 LECTURE AND SCREENING

The lecture gives an analysis of China, Japan and other countries in Far East and their culture: How had Fine Art in a Western sense come into existence? How is its connection to the traditions, which effect had have modernism, communism and the wars, the oconomic boom and changed consumer attitude, resp. the changed life-style of the younger generations? The theme is accompanied by a wide range of images.
part of the Plein Art Festival

Chen Zen, Wang Du, Matthew Ngui, Chibaru Shiota, Tehching Hsieh, Fang Lijun, Zhang Huan, Tadashi Kawamata, Tanaka Koki, Mariko Mori, Bak Ikeda, Takashi Murakami, Liu Wei, Fiona Tan, Nam Jun Paik, Zhu Hao, Yang Zhenzong, Shen Ye, Huang Yong Ping, Yung Ho Chang, Choi Jeong-Wa ... and many more.

This is the first lecture of a general introduction into contemporary art by Rudolf Pacsika at Videospace Budapest.